Question:  What is the primary cause of project failure? 
Answer:  It varies by person and company.  Projects fail for a number of reasons including unclear goals and objectives, poor planning, poor tracking, and insufficient communication.  Sometimes Project Leaders/Organizations just don't know how to manage all of the details and requirements of a project. 
Concern:  You or your company do not have a formalized process for starting, tracking, and closing projects.
Potential Solution:  Idea Mapping 
As I shared with the Delaware participants, in my Project Management seminar, a few weeks ago, Idea Mapping can help you organize your thoughts and serve as a visual for you and your team to monitor your project.  You can create an idea map of the project life cycle and include the details on sub-branches.  As defined in the PMBOK guide, "The project life cycle defines the phases that connect the beginning of a project to its end."  "The transition from one phase to another . . . is usually defined by . . . some form of technical transfer or handoff." 
I particularly like the idea of creating a separate idea map for the closing phase, for a reference and to share with others in your organization.  A few of the main branches would be Project Summary, Benefits/Things Gone Well, Lessons Learned, and Financial Analysis. 
Upon completing your project, be sure to celebrate your success!  You can even create an idea map for that! 🙂
Idea Mapping can help you with projects from creation to culmination to celebration!  View my maps and start creating your own to avoid project failure and create project success!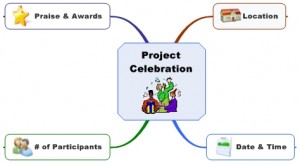 Close
Bookmark and Share This Page
Copy HTML:
If you like this then please subscribe to the
RSS Feed
.
2 Responses to "Idea Mapping and Project Management"
Lisa,

Nice posting. What kind of software did you use to creates these Project Management Idea Maps?

Jamie




on 01 Sep 2009 at 4:56 pm

2

Lisa Roach

Jamie,

Thanks for the feedback. I used Mindjet MindManager Software. I find it easy to use and I learn more about its capabilities (and mine) every time I use it.

Lisa



Leave a Reply